Are you wondering what to do with your life and you are thinking what life coaching can do for you? Are you struggling with unfulfilled dreams that never come true? Are you frustrated from trying and never getting there? Are you facing or wanting a life change or at a turning point in your personal life or career, where you need to do something about it now? Are you feeling stuck or overwhelmed with your current life situation? Do you need help to clarify your goals and desires to take inspired action and have someone to keep you accountable for it? Are you unsatisfied with your overall health and fitness? Do you need motivation and support in your life? Are you frustrated with life and you want to know the steps to make your dreams come true? Are you ready to accept a helping hand and invest in yourself? I am here to help you! Now, it's the only moment you got to start living your dreams! Schedule a FREE one hour consultation  or if you are ready to take the next step in your life schedule a 30min, 1 or 2 hour session with me via paypal and get a free detox lifestyle program. See below for more details.

My story: I went from struggling as a full time musician while studying full time, with an un-supportive and controlling environment, in third world country like Venezuela, living in an abusive marriage, having to migrate to a foreign country to find a better future, going through a divorce away from my family and surviving tongue cancer, to living the American dream with a life of material abundance with a luxury car and condo in Boston as a software engineer and singer, traveling the world in singing tours, becoming as healthy as I have ever been with my obsession with fitness and health, learning to ride a bike at 40 and discovering my athletic self racing many triathlons a year and discovering my swimming abilities, even from Alcatraz! twice! thriving with my solo singing in my Gospel choirs and Latin Jazz band plus having an amazing social life dancing and kitesurfing and now living in Paris where I found a wonderful love life, and where after 5 months, I released 3 CDs in various languages and genres, including one which won an award for best jazz song/singer and I work as a Life coach and Artist Promoter, focusing 100% on my entrepreneurship after leaving the corporate world to fulfill my life's purpose to serve others this way. All this has made me strong and I am ready to give you all the tools that have taken me this far with my life coaching.
My steps to live your dreams coaching package is based on ancient wisdom that we all carry inside and those of renowned and established masters of life that have helped me in my journey with their tools. I have learned, from my humble life experience that you can set your mind to do whatever you want to. Who would have thought that the granddaughter of a Venezuelan native indian from Sinamaica, whose grandmother gave birth without medical assistance, to her surviving twin mother, in a Venetian style shack built above a polluted lagoon, nourished from the profits of food selling and who married a very poor but dedicated med-student who struggled to support his single mom and 7 siblings; would end up living a dream life in Paris after already living the american dream in Boston? I can share with you what kept me going, the tools I used to survive and thrive.
I started a new promotion of pay as you go starting at $50 per week! Schedule a FREE consultation
 "Life strategy coaching to Live Your Dreams!"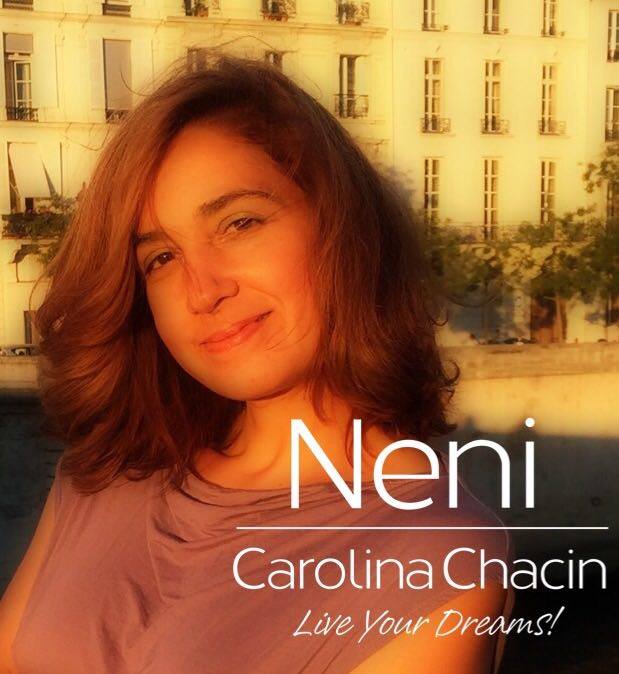 Neni's Life Strategy Coaching Program: click to go to the facebook site
My Life Coaching Program has 6 videos, each 7 to 30 minutes long and a 30-45 min live session with me weekly. I will also include my Jazz CD, my cooking ebook and a special gift from Paris at end of program. In these 6 videos, I will uncover and explain one step at a time the life tools to live your dreams. I will take you through the 7 steps that I followed to live mine.
With my guidance you will transform your will, control your mind, experience your best self, get more inspired, enjoy life daily and improve your health but most important of all you will make steps forward to live your dreams! You will feel unstoppable and hopeful!
Here is how it works with Pay as You Go:
your package includes:
-1 video from Neni's Life coaching to 'Live Your Dreams' Program series
-1 half hour coaching session with Neni
Hope to see you on the other side 🙂 
Keep learning, keep experimenting, keep being inspired!
With my Steps to live your dreams coaching package I can offer a light at the end of the tunnel. Putting all things in order in life can be challenging, one way or the other, we'll always need help. I am here to share the tools that I have used throughout my career as a musician and as an ever-changing individual to help you move along in the direction of your dreams. I will guide you step by step to make them happen and help you identify them if you are not sure which your dream are. Schedule a FREE consultation
In recent years there has been an urge to seek coaches, because we are in a world of information where we are all connected and we feel the need to provide something, help someone, contribute to justice, love, art to the world and we don't know how and why. The internet and social media technology provide a way to facilitate this contribution and interaction so we can make a difference around us and to the far corners of the world. Better yet, information is now at our fingertips and we can communicate easier no matter where we are. The world is our playground now!. You can get help from someone like me living in Paris even if you are very far away or just around the corner.
My unique approach is not for everyone but if we match, it will take you places you have never dreamed of. If "I" can do it, then "YOU" can do it too because I am just as human as you are. You have nothing to lose when you invest in yourself. Time and money spent on yourself is rewarded immensely in all aspects of life. It takes action, enthusiasm, passion and will, to live your dreams, so if you are not willing to give all of you, then don't even bother with my coaching ideas but if you do, you will soar and live a fulfilling life every day. Yet it is crazy to think that you will give up your dreams so easily. I know you are capable of action and value enthusiasm, passion and will so what are you waiting for? This is the right time so schedule a FREE consultation and explore whether my coaching style is right for you.
With my steps to live your dreams coaching package you will get to follow these steps in the course of 60 days:
Step 0 – Assessment (Free), Step 1 – Self knowledge, Step 2 – Dreams and Goals, Step 3 – Wisdom tools, Step 4 – Health, Step 5 – Cleaning blocks, Step 6 – Taking action – Step x – Continued Growth
You will get a welcome package that will include a copy of my latest Jazz CD, my cooking ebook, one on one online live call, weekly online support and step review with assignments to achieve you dream goals, using the tools I have learned and still use to live my own. You will also get exclusive personal check-in calls, unlimited email access during the duration of the program, assessments and written session reports, extra services such as Resume Re-Write, training-support for social media Marketing, guidance creating a Customized Eating and Exercise Plan, and on top of all this you will get references and discounts to other services such as acupuncture, intuitive readings, muscle-testing, meditation tools, etc. plus at the end, you will receive a Live Your Dreams special surprise gift from Paris!. 
Can your dreams be postponed? Act NOW! The world needs you more than ever, we can all contribute with our example for a better world. Don't you want a better self? you can contact me or schedule a FREE consultation.
The investment in my Life Coaching to Live Your Dreams is $397 (a $2500 value, that includes 6 live 30-45 min calls, 6 videos, Jazz CD download, cooking ebook and a surprise gift from Paris) to guide you and teach you the steps and tools to live a life that reflects who you truly are and what you truly love!. Live Sessions can be done from anywhere in the world. To purchase my 60 day steps to live your dreams coaching package you can pay with credit or debit card or via PayPal by clicking the button below:

This will set a foundation for your future and will provide you with valuable tools that you need to live your life. How much will you invest in yourself to live your dreams? How much are your dreams worth? The return on investment is more than 10x. I am sure that living a life of your dreams is worth much more! How long are you going to wait for YOU to live your dreams?  Take this opportunity to change your life and schedule a FREE consultation now.
---
Testimonials: Things my clients say about me and the coaching program!
" I have the utmost confidence in you ! …  and by the way i thought of an inspiring line about your coaching abilities:  Some say that wisdom may take ages to arrive. True wisdom is to know that it doesn't have to take ages to arrive. And Carolina`s coaching inspires just that ! " – Andy ( Paris)
"Haber estado 3 meses asesorada y acompañada por Neni fue fenomenal.  Ella estuvo conmigo en todo el proceso de crecimiento personal y lo mas importante a Neni realmente le importo. Eso fue lo que ella me hizo sentir desde el primer día del coaching, que realmente le importa mi bienestar y que logre hacer realidad mis sueños. Siempre dispuesta a escuchar, enseñar y motivar.
Durante el coaching aprendí a conocerme más y aprendí estrategias que durarán toda la vida.
Gracias Neni Chacin.  You are Awesome!!!" – Betty (Venezuela)
"I found Neni's personal coaching meetings and calls extremely helpful, especially on a particular problem I was unwilling to face and that scared me. Neni helped me look through the haze of my fear and face the problem I was experiencing, giving me the gusto to deal with it when I just wanted to shrink away from the whole thing. Her interventions were uplifting and gave me the courage to do what I had to do. Thank you, Neni!" – Lisa  (Paris)
"She has always had a natural propensity for helping and encouraging others, ranging from the cancer patients for whom she helped care in the wake of her own recovery, to the up-and-coming musicians whose work she helps to promote using her social media sites."
"'Coach Neni', as I affectionately dubbed her, has proved herself to be an amazing and effective life coach and mentor. First of all, she is a person whom I have known and trusted for many years, meeting as we did through our volunteering for an altruistic cause (one usually meets high-quality people at those types of things).  Second, in a day where friendships come and go, and people have so many 'virtual' friends whose only record is often the number of 'hits' on one's social media page (for the record, I do not use social media other than e-mail), we have maintained a true friendship that has lasted for sixteen years, encouraging one another through our various ups-and-down. Most importantly, she has proven everything that she has learned and come to believe by actually making it all come true !  Now, how many people do you know who can actually make that claim?!"
"I emphasize that by no means does she claim to be a doctor – in fact, she strongly encourages her coachees to enlist the help of their own physicians – but she has an absolute wealth of excellent information learned from her many years' worth of cancer research.  She provides excellent and easily-doable advice on self-awareness, nutrition, exercise, and rest, and espouses in particular the wisdom and effectiveness of tiny steps taken each day and week. "
"Threaded throughout the coaching program is the notion that we and our lives are constantly changing, so this is not a one-time program to be completed, but rather, a life-long process that gets reassessed and tweaked along the way."
"I can hardly begin to describe the remarkable impact that Coach Neni's mentoring has had on my own life!  At the beginning, I confessed to her that I was feeling overwhelmed and anxious about 'fitting my life into my life', let alone taking on a coaching program, yet I realized that if I kept on doing the same old things the same old that I have been thus far, that I would never achieve new results.  She helped me to calm down and catch my breath, assuring me that the answers that I need to answer life's questions are inside of me, and to trust that during the process of change that the answers that I was seeking would reveal themselves when I needed them.  Now I had always considered myself as being a pretty positive person, but through doing the steps and answering the questions, I began to discover that there was actually a lot of negative self-talk going on inside my head that I had never even realized was there!  This was a difficult thing for me to admit, and I still have to pay attention to my thoughts and words in order to 'catch' and reverse these tendencies, but thankfully, through following the steps, over time these have been occurring less and less. "
"Coach is always respectful of me and my dreams, gentle when telling me things that I need to hear (such as my need to set limits on how much of myself I will give to other people to the point that I fail to care for myself), patient when I didn't complete a step quite thoroughly (as long as it isn't due to excuses!), and a huge cheerleader for me for every baby step of progress that I made along the way." 
"… she respected my right to choose the methods that I was comfortable with and as well as my right to choose not to choose the others! … Because of the complete freedom and total lack of pressure that I felt from her, I have been open-minded enough to allow myself to try some of the things that I normally wouldn't have, while relying on my own scriptural discernment. Most importantly, she never tried to challenge or change my religious beliefs, or to turn me into a clone of herself. "
"Another thing that I admire about her is that, while she teaches us to look for the valuable lesson even in the most difficult of situations, she always insists that we honor ourselves and our feelings, and never expects us to act as if everything is wonderful all the time, which would be unrealistic!  We can be real, while at the same time learning to express those feelings in more constructive ways. "
"I look forward to her 'check-up' calls every couple of weeks, and whenever I have a question during the in-between times, she always gets back to me with an answer within twenty-four hours or less.  The 'homework' assignments that she gives weekly are challenging, but doable, and I find that the return for my time 'investment' is always very high." – Stacey (Boston)
P.S. By the way, if you want to be an online coach too and be your own boss? check Coaching Mastery